D.M. Sabia & Co., Inc. has been installing quality masonry since 1923
D.M. Sabia & Co., Inc. is a family-owned masonry business which was founded in 1923 by Domenic Michael Sabia. Our business began with the idea of delivering excellent quality masonry work at a fair price.  Our company growth is built on exceptional employees and satisfied clients. From the beginning, hard work and paying attention to detail has made us into the company we are today – one of the best masonry companies in the Tri-state area. We credit this success to the dedication and hard work of our employees, who take pride in the company and the work they produce. Our Estimating and Project Management staff offers highly experienced expertise and is committed to forming long-lasting relationships by valuing each of our customers and understanding their individual needs.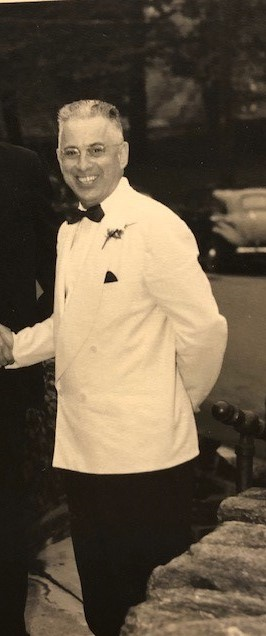 Over 90 years of experience
In his teens, Domenic Michael Sabia moved from New York to Philadelphia. By 1917 he took a job as a masonry apprentice and by 1923 he founded D.M. Sabia & Company Inc.  Domenic and his wife Elizabeth had five children. His office was in the basement of their home on Benezette Street. Four of his five children worked for their father as summer laborers with a few getting their apprenticeships. Working by himself with only a couple of bricklayers, Domenic focused on small jobs such as restoring churches and getting various small commercial jobs for Abbotts Dairy.
When the Great Depression happened, Domenic, the company, his family, and our entire country struggled greatly. By the late 1930s, the United States had still avoided joining the war in Europe, however, the government did have funds for military expenses. In 1937, D.M. Sabia was tasked with building aircraft hangars at the Naval Base in Philadelphia. This job is largely given credit for getting the company back on its feet. The company continued to focus on smaller projects often getting jobs that required finesse, not mass production.
After the Korean War, Domenic's son John J Sabia Sr returned home to work full time for his father. John Sr moved the company from Chestnut Hill to a small office on Ridge Pike with a small yard for equipment in Conshohocken. A few years later in 1966 John Sr again moved the office this time to 204 Wood Street in Conshohocken, which is home to company operations to this day.
John Sr began taking on larger projects. In 1973 they built the permanent structure for the Valley Forge Music Fair along with other mid-size commercial and industrial projects. In 1979 D.M. Sabia built a large K-Mart distribution center, at the time it's largest project. As the project sizes grew so did the number of employees. John Sr and his wife Molly had nine children. Five of their children worked at D.M. Sabia and two children continue in the family masonry business today, with Nick being President since 1998.
D. M. Sabia & Co., Inc. has gradually grown to one of the largest masonry contractors in the Tri-State area, completing some of the most high profile projects in the Philadelphia and Southern New Jersey area. We remain committed to continuing our near 100 years of excellence in quality and safety.